The opposite of light ales, it's Darksiders.
Melding the comic book stylings of Joe Madureira with Hebrew mythology while lifting structure and mechanics wholesale from other popular franchises, Vigil's assured 2010 debut Darksiders caught reviewers and gamers by surprise as the sleeper hit of the year. Going on to sell North of a million copies, sequels would follow with Darksiders' lead character War supplanted in each by one of his equestrian brothers, first Death in 2012 then Psoriasis in 2014's next gen Darksiders 3 and finally, Thrush. Leon, Tony, Darren Forman and Karl are your review panel and as usual we also feature your Three Word Reviews of the game.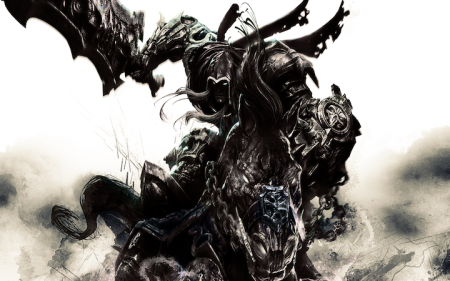 Music used in this show is as follows:
Track 1: Darksiders Theme by Mike Regan & Cris Velasco
Track 2: War's Theme by Scott Morton
Track 3: Uriel by Scott Morton
Cane & Rinse 48 was edited by Sean O'Brien.
Do you have an opinion about this particular game or maybe about our podcast in general? The why not venture into our forum and leave us your feedback. Whilst there you can also interact with our ever-growing and friendly community, discuss the past, present and future of videogames (and other stuff too!) and perhaps arrange some games with like-minded individuals. Sound good? Then come and say hello at The Official Cane & Rinse Forum.
Podcast (podcast-mp3): Play in new window | Download (Duration: 1:39:21 — 91.0MB)