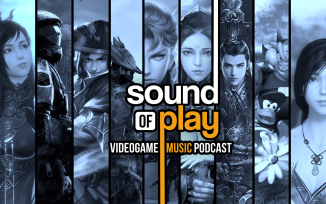 Welcome to our weekly podcast dedicated to videogame music – Sound of Play
Joining host
Leon Cox
(@ratsoalbion) for Sound of Play 127 is the composer
Matthew Carl Earl
(@MatthewCarlEarl).
Track listing for this show is as follows:
1:
Second Anniversary Theme
by Matthew Carl Earl (original version by Thomas Parisch and Miles Hankins) – Honor of Kings, 2017
2:
200 Years Ago, On an Icy Planet…
by Jason Graves/James Hannigan – Dead Space 3, 2013
3:
Into The Fire
by Matthew Carl Earl – Legend of Xuan Yuan, 2017
4:
The Hunter
by Ryan Amon – Bloodborne, 2015
5:
The Imperial City (Winter)
by Matthew Carl Earl – King of Chaos, 2017
6:
Greenwood Village
by David Wise – Diddy Kong Racing, 1997
7:
Gu Yan Nan Fei
by Matthew Carl Earl – Moonlight Blade, 2016
8:
Rain (Deference for Darkness)
by Martin O'Donnell/Michael Salvatori – Halo 3: ODST, 2009
9:
Village Life (Jinghu)
by Matthew Carl Earl – Moonlight Blade, 2015
Sound of Play: 127
was edited by
Jay Taylor
Remember, it's not just about what we like, so venture over to the thread at the top of this forum and put forward your own suggestions so that we might include them in future shows.
You can subscribe using
Apple Podcasts
or you can just simply
download from here
instead.