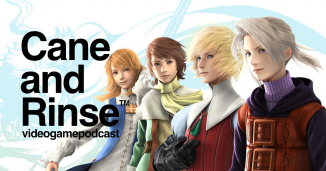 "Maybe they're out pillaging the countryside like good soldiers of doom?"
Continuing our ongoing series, Josh, Leah and Jon say goodbye to the NES era of this franchise with the light hearted, short story collection that is
Final Fantasy III
. Except, why is everything in 3D? Within, we discuss the unique circumstance of this entry's western release, along with introduction of the Job system to the series. Also, Fat Chocobo. So join us as we once again seek out those crystals with the warriors of light.
Music used in this issue:
1:
Opening Theme
by Nobuo Uematsu
2:
The Dark Crystals
by Nobuo Uematsu
Cane and Rinse 315
was edited by
Jay Taylor
.
Each issue of The Cane and Rinse podcast is available a week early through our Patreon for just $1 a month
You can subscribe using
iTUNES
or use our
RSS FEED
, or you can just simply
DOWNLOAD IT HERE
instead.