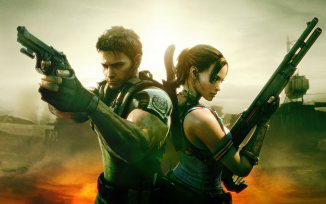 "You're merely postponing the inevitable!"
For the eighth of our ten podcasts on the mainline Resident Evil games, we return to Kijuju for potentially the most controversial and divisive entry in the series. Leon, Charlotte, Jacob and Michiel decide whether or not
Resident Evil 5
retained enough of its mighty predecessor's DNA to stay relevant, or if – Uroboros like – the franchise was starting to eat its own tail as a 'me-too' Gears of War type affair. The panel and our contributors also discuss the thorny issue of the game's African setting and accompanying imagery.
Music used in this issue:
1. Item Box by Kota Suzuki
2. Gigantic Attack by Kota Suzuki
Cane and Rinse 341
was edited by
Jay Taylor
.
Each issue of The Cane and Rinse podcast is available a week early through our Patreon for just $1 a month
You can subscribe using
iTUNES
or use our
RSS FEED
, or you can just simply
DOWNLOAD IT HERE
instead.