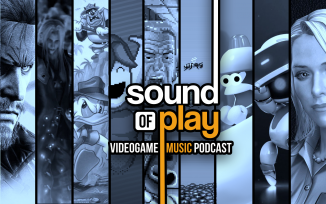 Welcome to our weekly podcast dedicated to videogame music – Sound of Play
Leon Cox hosts a community only show for Sound of Play 171 with contributions from Simonsloth, TheStuntLady, TheGaffer, Wisheewashee, Domsbeard, Peditis, Megadirt, srgrtsilent and Spacefarer.
Track listing for this show is as follows:
1: The Woods and the Goddess by Riyou Kinugasa/Takuya Kobayashi/Hiromi Mizutani – Deadly Premonition, 2010
2: One-Winged Angel (Distant Worlds) by Nobuo Uematsu, arranged by Arnie Roth and performed by the Royal Stockholm Philharmonic Orchestra – Final Fantasy VII, 1997
3: Credits by Chris Huelsbeck – Apidya, 1992
4: Transylvania by Shigenori Kamiya – QuackShot Starring Donald Duck, 1991
5: 12 Bar BOT by Kenneth C M Young – Astro Bot Rescue Mission, 2018
6: I'll Show You by Jukio Kallio – Bleed 2, 2017
7: Main Theme by Akihiro Honda – Metal Gear Solid: Peace Walker, 2010
8: Sushi Temple by Soichi Terada – Ape Escape, 1999
9: Spacing Piss by Barry Leitch/Ian How – Space Crusade, 1992
Sound of Play: 171
was edited by
Jay Taylor
Remember, it's not just about what we like, so venture over to the thread at the top of this forum and put forward your own suggestions so that we might include them in future shows.
You can subscribe using
Apple Podcasts
or you can just simply
download from here
instead.