We focus on Kojima-san's sequel Metal Gear Solid 2.
In the third of our six Metal Gear 25th anniversary specials Leon, Tony, James and Ready-Up's Paul Rooney come to that most controversial of instalments, Metal Gear Solid 2: Sons of Liberty. Did this much anticipated title represent a new echelon in interactive storytelling, or was it the start of the slippery slope for Kojima and gaming in general?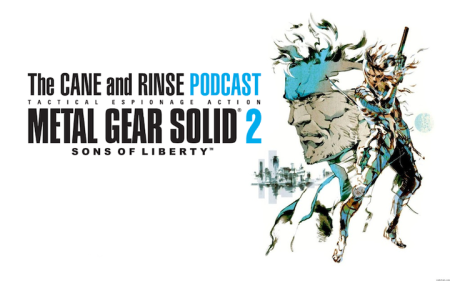 Music used in this show is as follows:
Track 1: Metal Gear Solid Main Theme by Tappi Iwase (arranged by Harry Gregson-Williams)
Track 2:  Fortune by Norihiko Hibino
Track 3: Twilight Sniping by Norihiko Hibino
Track 4: Can't Say Goodbye to Yesterday by Rika Muranaka (vocal by Carla White)
Cane & Rinse 33 was edited by Sean O'Brien.
If you're looking for our previous shows regarding Kojima Productions classic series, click the links below:
Metal Gear Solid: Peace Walker
Metal Gear Solid 3: Snake Eater
Metal Gear & Metal Gear 2: Solid Snake
Podcast (podcast-mp3): Play in new window | Download (Duration: 3:20:50 — 184.1MB)