This week we discuss Kojima-san's PlayStation classic – Metal Gear Solid.
In the second of six planned Metal Gear specials, Leon, Tony, James and Ready-Up's Paul Rooney go large on the series' 1998 32-bit début – Metal Gear Solid. In a self-imposed-length-limitation-defying podcast, we get deep into Solid Snake's island adventure and revisit just what made it so remarkable back in the late 1990′s.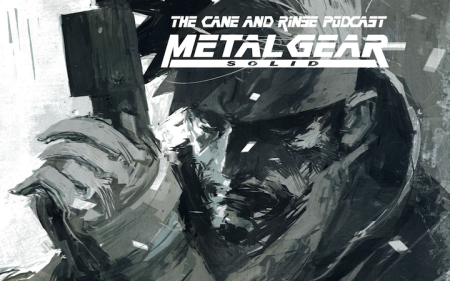 Music used in this show is as follows:
Track 1: Metal Gear Solid Main Theme by TAPPY (Tappi Iwase)
Track 2: Intruder 1 by KCE Japan Sound Team
Track 3: Encounter by KCE Japan Sound Team
Track 4: The Best is Yet to Come by Aoife Ni Fhearraigh (composed by Rika Muranaka)
Cane & Rinse 28 was edited by Sean O'Brien.
If you're looking for our previous shows regarding Kojima Productions classic Metal Gear series, click the links below:
Metal Gear Solid: Peace Walker
Metal Gear Solid 3: Snake Eater
Metal Gear Solid 2: Sons of Liberty
Metal Gear & Metal Gear 2: Solid Snake
Podcast (podcast-mp3): Play in new window | Download (Duration: 2:59:29 — 164.4MB)