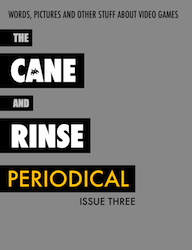 It's that time once again folks!
THE CANE & RINSE PERIODICAL ISSUE THREE
Once again, it's time for another jam-packed issue of the quarterly Cane & Rinse Periodical and we hope that those of you who endeavor to check it out find it entertaining enough – especially since it's free!
Be aware also that if there are any of you good folk out there that feel you have something to say with regards to these fascinating things known as video games, whether it be review, opinion or observation then don't hesitate to get in touch with us using the various means at your disposal. For one thing, we would love to include content from the wider community within future issues of this here Periodical.
As is always the case, your general thoughts and feedback about the Periodical, podcast and Cane & Rinse in general, will always be greatly appreciated and help guide us to make improvements as we try to develop our site and these formats further.
Unfortunately, as has been the case with the previous issues, a fully-functioning version of the Periodical is still pretty much exclusive for those of you with iPads*. However, there's also a download link for the .pdf version too for those of you without access to one yet still interested in taking a look. Although the .PDF format only allows for active hyperlinks and none of the other multimedia stuff (audio, video) that is only available in the iBook version.
*iOS5 & iBooks are also necessary to view the content
YOU CAN DOWNLOAD THE iBOOK ISSUE THREE HERE
For those of you who are without an iPad but are just curious anyway;
YOU CAN DOWNLOAD THE .PDF ISSUE THREE HERE
A brief reminder that currently the Periodical is designed to be read in the landscape orientation only on the iPad and not in portrait (this is due to the current version of iBooks Author and will hopefully be something addressed for future issues).