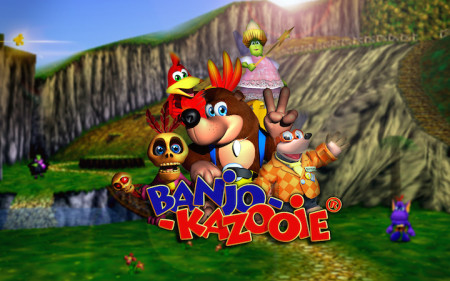 "It really does sound quite absurd, adventure of a bear and bird!"
Rare's ursine-avian twosome are the subject of this issue of the podcast. Not only do Leon, Ryan, Brian and former Rare employee Darren discuss the original, much-loved Banjo-Kazooie, but also its 2000 sequel Banjo-Tooie as well as a brief word about a brace of GBA spin-offs. As usual we also get to share the experiences and opinions of the Cane and Rinse community too.
Additional audio used in this show is as follows:
Track 1:
Main Title
by
Grant Kirkhope
Track 2:
Clanker's Cavern
by
Grant Kirkhope
Track 3:
Isle o' Hags (Cloud Cuckoo Land)
by
Grant Kirkhope
Track 4:
Grunty's Lair (Arrangement)
by
Grant Kirkhope
Cane and Rinse 137
was edited by
Ryan Hamann
.
You can subscribe using
iTUNES
or use our
RSS FEED
, or you can just simply
DOWNLOAD IT HERE
instead.