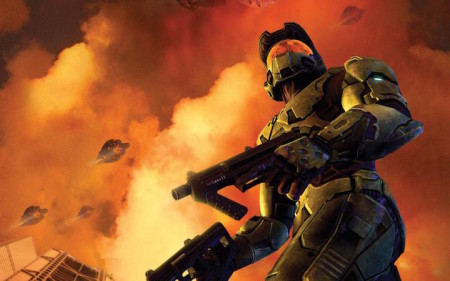 "I… I am a monument to all your sins…"
With Halo 5: Guardians scheduled to arrive later this year, Cane and Rinse company drop from orbit down to the surface of the second Halo. It's easy to forget just what a big deal this release was for Bungie and Microsoft back in 2004. How do Bungie's design decisions and curtailed development fare over a decade on, and does Halo 2: Anniversary for Xbox One (part of The Master Chief Collection) make a return any more tempting? Leon, Tony, Darren, Karl and our community discuss.
Additional audio used in this show is as follows:
Track 1:
Impart
by Martin O'Donnell and Michael Salvatori
Track 2:
Halo Theme (Gungniir Mix)
by Martin O'Donnell and Michael Salvatori featuring Steve Vai
Cane and Rinse 181
was edited by
Ryan Hamann
.
You can subscribe using
iTUNES
or use our
RSS FEED
, or you can just simply
DOWNLOAD IT HERE
instead.