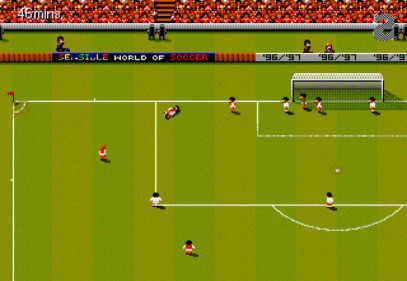 "Every goal, goal, goal, says you're the best in the land!"
Before FIFA, before Pro Evo (but after Kick Off), there was Sensible Soccer. 'Sensi' and its sequel Sensible World of Soccer (aka SWOS) dribbled around many of their computer footy predecessors' pitfalls, before assuredly bending a 25 yard curler into the back of the charm net. Leon, Darren, Karl and guest CJ Black (Twin Humanities et al) remember their time with the entire series, from the original with the broken goalkeepers all they way through console conversions, controversial sequels and the 2007 re-release of Sensible World of Soccer '96/'97 for Xbox Live Arcade.
Music used in this issue:
Track 1:
Sensible Soccer Theme
by Captain Sensible and Richard Joseph
Track 2:
Goalscoringsuperstarhero
by Jon Hare and Richard Joseph, vocal by Jackie 'Jacks' Reed
Cane and Rinse 191
was edited by
Sean O'Brien
.
You can subscribe using
iTUNES
or use our
RSS FEED
, or you can just simply [url=
http://media.blubrry.com/caneandrinse/c ... ue_191.mp3
]
DOWNLOAD IT HERE
[/url