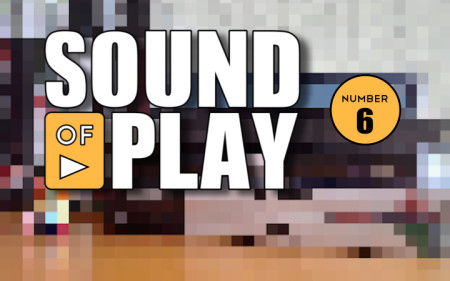 Welcome to the last podcast of 2014 about our favourite videogame music – Sound of Play.
For many of us, it's hard to think of almost any videogame without our minds conjuring up the music that accompanied it. Over the decades they've evolved from simplistic monaural beeps and bloops to full orchestral scores recorded in 7.1 surround, but from their earliest days right up to today, soundtracks have played an integral part of our memories of the games we played, and the times in our lives when we were playing them. What we aim to bring you with Sound of Play is a diverse sample of our favourites pieces from the many air-punching, spine-tingling, tear-jerking and grin-inducing videogame soundtracks we've heard over the years.
This show's presenters were:
Leon Cox
and
Jay Taylor
.
Community contributors were:
Solm
,
Craigie H
,
Tleprie
,
Cwench Design
,
Hands in the Jam
,
Ash,
Man of Many Bad Aliases
,
David Hartley
and
Pope Ramone
.
Track listing for this show is as follows:
Sound of Play intro mash-up by
Ryan Hamann
.
Track 1:
Main Theme
by Mahito Yokota (Super Mario Galaxy, 2007)
Track 2:
Paradise Lost
by Inon Zur (Fallout 3, 2008)
Track 3:
Blooba Doop Scooba
by Danny Baranowsky (The Basement Collection, 2012)
Track 4:
Labyrinth
by Keiji Takeuchi, Akiyoshi "Einosuke" Nagao, Katsumi Tanaka (Super Aleste, 1992)
Track 5:
Track Three
by Peter McConnell (Afterlife, 1996)
Track 6:
Force of Light
by Motoi Sakuraba (Shining Force III, 1997)
Track 7:
The Origin
by Maki Kirioka, Akihiro Honda, Norihiko Hibino, Toshiyuki Kakuta, Shuichi Kobori (Zone of the Enders, 2001)
Track 8:
Civil (Battle)
by Ben Prunty (FTL: Faster Than Light, 2012)
Track 9:
Setting Sail, Coming Home
by Darren Korb with Ashley Barrett (Bastion, 2011)
Sound of Play: 6
was edited by
Jay Taylor
You can subscribe using
iTUNES
or you can just simply
DOWNLOAD IT HERE
instead.