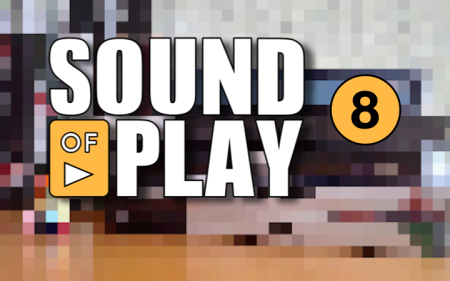 Welcome to the last podcast of 2014 about our favourite videogame music – Sound of Play.
For many of us, it's hard to think of almost any videogame without our minds conjuring up the music that accompanied it. Over the decades they've evolved from simplistic monaural beeps and bloops to full orchestral scores recorded in 7.1 surround, but from their earliest days right up to today, soundtracks have played an integral part of our memories of the games we played, and the times in our lives when we were playing them. What we aim to bring you with Sound of Play is a diverse sample of our favourites pieces from the many air-punching, spine-tingling, tear-jerking and grin-inducing videogame soundtracks we've heard over the years.
This show's presenters:
Leon Cox
,
Ryan Hamann
and
Jay Taylor
.
Community contributors:
Wooben
,
Katieee120
and
Follow My Ruin
.
Track listing for this show is as follows:
Sound of Play intro mash-up by
Ryan Hamann
.
Track 1:
Working Space
by Evan Le Ny (SpaceChem, 2014)
Track 2:
Main Title / Enemy Mind
by Rainbow Kitten (Enemy Mind, 2014)
Track 3:
Snowy Mountains
by Mikael Karlsson (Battlefield: Bad Company 2, 2010)
Track 4:
Main Title/Menu Theme
by Kenji Yamamoto (Metroid Prime, 2002)
Track 5:
The Dawn Will Come
by Trevor Morris (Dragon Age: Inquisition, 2014)
Track 6:
K. Rool Returns / Welcome to Crocodile Isle
by David Wise (Donkey Kong Country 2: Diddy's Kong, 1995)
Track 7:
Dead Island trailer theme
by Giles Lamb (Dead Island, 2011)
Track 8:
Diptera Sonata
by Matthias Bossi (The Binding of Isaac: Rebirth, 2014)
Track 9:
Peaceful Repose
by Vincent Diamante (Flower, 2009)
Sound of Play: 8
was edited by
Jay Taylor
You can subscribe using
iTUNES
or you can just simply
DOWNLOAD IT HERE
instead.