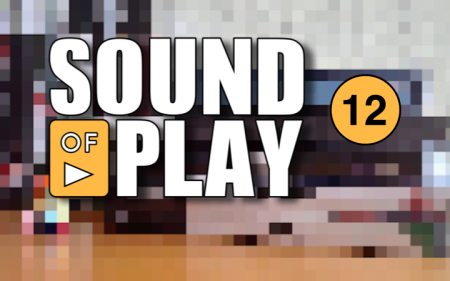 Welcome to our podcast about our favourite videogame music - Sound of Play.
For many of us, it's hard to think of almost any videogame without our minds conjuring up the music that accompanied it. Over the decades they've evolved from simplistic monaural beeps and bloops to full orchestral scores recorded in 7.1 surround, but from their earliest days right up to today, soundtracks have played an integral part of our memories of the games we played, and the times in our lives when we were playing them. What we aim to bring you with Sound of Play is a diverse sample of our favourites pieces from the many air-punching, spine-tingling, tear-jerking and grin-inducing videogame soundtracks we've heard over the years.
This show's presenters were:
Leon Cox
,
Karl Moon
and
Jay Taylor.
Community contributors were:
Cwench Design
,
Ash
and
Tleprie
.
Track listing for this show is as follows:
Sound of Play intro mash-up by
Ryan Hamann
.
Track 1:
War (Has Never Been So Much Fun)
by Jon Hare and Richard Joseph (Cannon Fodder, 1993)
Track 2:
Legends of Azeroth
by Jason Hayes (World of Warcraft, 2004)
Track 3:
Prologue – The Beginning of the Night
by Masakazu Sugimori (Ghost Trick: Phantom Detective, 2010)
Track 4:
The Village of Decay and Destruction
by Tim Follin, original by Tamayo Kawamoto (Ghouls'n Ghosts, 1989)
Track 5:
Main Theme
by Michael Land (The Secret of Monkey Island, 1990)
Track 6:
In Your Belief
by Chikayo Fukuda (Asura's Wrath, 2012)
Track 7:
Final Hours
by Koji Kondo (The Legend of Zelda: Majora's Mask, 2000)
Track 8:
The Honeyhive
by Mahito Yokota (Super Mario Galaxy, 2007)
Track 9:
City Escape
by Jun Senoue (Sonic Adventure 2, 2001)
Sound of Play: 12
was edited by
Jay Taylor
You can subscribe using
iTUNES
or you can just simply
DOWNLOAD IT HERE
instead.