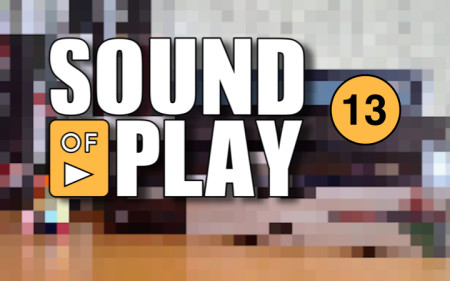 Welcome to our podcast about our favourite videogame music - Sound of Play.
For many of us, it's hard to think of almost any videogame without our minds conjuring up the music that accompanied it. Over the decades they've evolved from simplistic monaural beeps and bloops to full orchestral scores recorded in 7.1 surround, but from their earliest days right up to today, soundtracks have played an integral part of our memories of the games we played, and the times in our lives when we were playing them. What we aim to bring you with Sound of Play is a diverse sample of our favourites pieces from the many air-punching, spine-tingling, tear-jerking and grin-inducing videogame soundtracks we've heard over the years.
This show's presenters were:
Leon Cox
,
James Carter
and
CJ Black
.
Community contributors were:
Baron Phil
and
Todinho
.
Track listing for this show is as follows:
Sound of Play intro mash-up by
Ryan Hamann
.
Track 1:
Sanxion [loader]
by Rob Hubbard, re-imagined by Matt Gray (Sanxion, 1986)
Track 2:
The Opened Way
by Ko Otani (Shadow of the Colossus, 2005)
Track 3:
Batman Arkham City (The Adventures Of Batman & Robin Soundset)
by Alex Roe (Batman Arkham City, 2011)
Track 4:
In-game Music
by David Whittaker (Amaurote, 1987)
Track 5:
Robocop 3
by Jeroen Tel (Robocop 3, 1994)
Track 6:
Old LA 2040 (remastered)
by Motoaki Furukawa and Koichi Namiki (Policenauts, 1994)
Track 7:
Ellens dritter Gesang
by Franz Schubert performed by Daniel Perret and the Zurich Boys' Choir (Hitman: Blood Money, 2006)
Track 8:
Main Title
by Olof Gustafsson (Pinball Dreams, 1992)
Track 9:
Three Hours Of Fate
by Takeharu Ishimoto & The Sydney Symphony Orchestra (Final Fantasy Type-Zero, 2011)
Sound of Play: 13
was edited by
Jay Taylor
You can subscribe using
iTUNES
or you can just simply
DOWNLOAD IT HERE
instead.