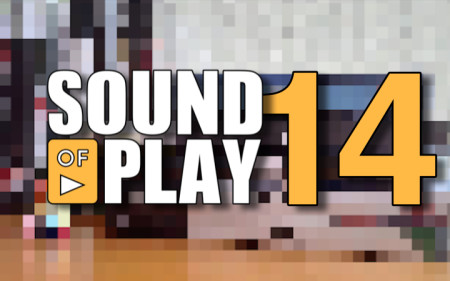 Welcome to our podcast about our favourite videogame music - Sound of Play.
For many of us, it's hard to think of almost any videogame without our minds conjuring up the music that accompanied it. Over the decades they've evolved from simplistic monaural beeps and bloops to full orchestral scores recorded in 7.1 surround, but from their earliest days right up to today, soundtracks have played an integral part of our memories of the games we played, and the times in our lives when we were playing them. What we aim to bring you with Sound of Play is a diverse sample of our favourites pieces from the many air-punching, spine-tingling, tear-jerking and grin-inducing videogame soundtracks we've heard over the years.
This show's presenters were:
Leon Cox
,
Joshua Garrity
and
Ryan Hamann
.
Community contributors were:
Radioprotector
,
Resarius
and
Flabyo
.
Track listing for this show is as follows:
Track 1:
Another Winter
by Anamanaguchi (Scott Pilgrim vs. the World: The Game, 2010)
Track 2:
The Song Bird
by Garry Schyman (Bioshock Infinite, 2013)
Track 3:
BIG (Instrumental)
by Masaya Matsuura (PaRappa the Rapper 2, 2001)
Track 4:
Drippy
by Joe Hisaishi and Rei Kondoh (Ni No Kuni: Wrath of the White Witch, 2011)
Track 5:
Sacrifices
by Yuzo Koshiro (ActRaiser, 1990)
Track 6:
Heaven and Earth in Resonance
by Masato Kouda, Kento Hasegawa (El Shaddai: Ascension of the Metatron, 2011)
Track 7:
Got to Move!
by Masaya Matsuura (UmJammer Lammy,1999)
Track 8:
Ride the Tiger (SEGA Saturn Arrange)
by Takenobu Mitsuyoshi (Virtua Fighter 2 1994)
Track 9:
Anu Orta Veniya (When the Day Breaks)
by Saori Kobayashi and Yutaka Minobe (Panzer Dragoon Orta, 2002)
Sound of Play: 14
was edited by
Jay Taylor
You can subscribe using
iTUNES
or you can just simply
DOWNLOAD IT HERE
instead.