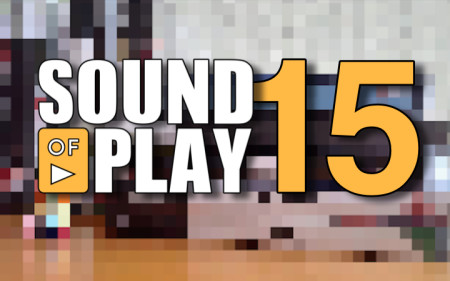 Welcome to our podcast all about our favourite videogame music – Sound of Play.
For many of us, it's hard to think of almost any videogame without our minds conjuring up the music that accompanied it. Over the decades they've evolved from simplistic monaural beeps and bloops to full orchestral scores recorded in 7.1 surround, but from their earliest days right up to today, soundtracks have played an integral part of our memories of the games we played, and the times in our lives when we were playing them. What we aim to bring you with Sound of Play is a diverse sample of our favourites pieces from the many air-punching, spine-tingling, tear-jerking and grin-inducing videogame soundtracks we've heard over the years.
This show's presenters were:
Leon Cox
,
Jay Taylor
and
Paddy Smith
(Twin Humanities).
Community contributors were:
Ben Blaster
and
Sean S Thomas
.
Track listing for this show is as follows:
Track 1:
Snake Eater (Japanese Version)
by Norihiko Hibino, featuring Akiko Wada - Metal Gear Solid 3: Snake Eater, 2004
Track 2:
Fable Theme
by Danny Elfman and Russell Shaw - Fable, 2004
Track 3:
Freedom
by David Housen - Thomas Was Alone, 2012
Track 4:
Greenvale (vocal)
composed by Riyou Kinugasa, Takuya Kobayashi, and Hiromi Mizutani - Deadly Premonition, 2010
Track 5:
Hit The Jackpot!
by Tsuneo Imahori - Gungrave Overdose, 2004
Track 6:
Mute City
by Yumiko Kanki - Mario Kart 8, 2014
Track 7:
God Hand
by Masafumi Takada - God Hand, 2006
Track 8:
Space Valley
by Hirokazu Ando - Kirby's Dream Course, 1994
Track 9:
End Credits (Dared To Dream)
by Jake Kaufman - Double Dragon Neon, 2012
Sound of Play: 15
was edited by
Jay Taylor
You can subscribe using
iTUNES
or you can just simply
DOWNLOAD IT HERE
instead.