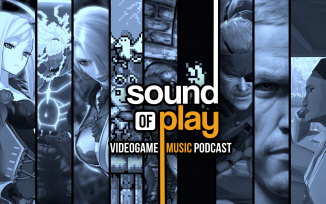 Welcome to our weekly podcast dedicated to videogame music – Sound of Play
Joining host
Leon Cox
(@ratsoalbion) for Sound of Play 131 is Cane and Rinse contributor and community member Jacob Geller (@yacobg42).
Track listing for this show is as follows:
1:
Flash Forward
by Lyndon Holland – Virginia, 2016
2:
Niji (Stage 2)
by Manabu Namiki – DoDonPachi SaiDaiOuJou, 2012
3:
Love Theme
by Nobuko Toda, vocal by Jackie Presti – Metal Gear Solid 4: Guns of the Patriots, 2008
4:
The Breeze At Dawn
by Cris Velasco, vocal by Jillian Aversa – SoulCalibur V, 2012
5:
8.02
by Danger – Furi, 2012
6:
Uroboros
by Eirik Suhrke – Downwell, 2015
7:
Boom Boom
by 'Ralph Becker', original by John Lee Hooker – Wolfenstein: The New Order, 2014
8:
Across the Sea (Stage 1 – Act 2)
by Masanori Oouchi/Aki Hata/Michiru Yamane/Masanori Adachi/Hi
roshi Kobayashi/Akira Yamaoka, 1993
9:
Mandus
by Jessica Curry – Amnesia: A Machine For Pigs, 2013
Sound of Play: 131
was edited by
Jay Taylor
Remember, it's not just about what we like, so venture over to the thread at the top of this forum and put forward your own suggestions so that we might include them in future shows.
You can subscribe using
Apple Podcasts
or you can just simply
download from here
instead.