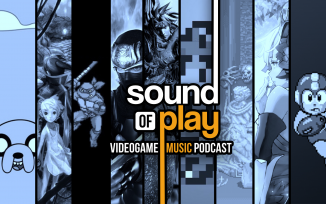 Welcome to our weekly podcast dedicated to videogame music – Sound of Play
Joining host
Leon Cox
(@ratsoalbion) for Sound of Play 133 is Cane and Rinse community member
Keith Wernert
(@TheGreenFlea).
Track listing for this show is as follows:
1:
World Map
by Masaharu Iwata/Hitoshi Sakimoto/Mitsuhiro Kaneda/Kimihiro Abe/Manabu Namiki – Odin Sphere, 2007
2:
Main Theme
by Ryo Koike/Wakana Hara – Ninja Gaiden, 2004
3:
Magnet Man Stage
by Yasuaki Fujita – Mega Man 3, 1990
4:
Winters
by Keiichi Suzuki/Hirokazu Tanaka – Mother 2 (Earthbound), 1994
5:
Whispering of the Trees
by Dennis Martin/Takao Miratsu – The Legend of Dragoon, 1999
6:
Stage 1 BGM
by Kenichiro Fukui/Seiichi Fukami – Violent Storm, 1993
7:
Sewer Surfin'
by Kozo Nakamura – Teenage Mutant Ninja Turtles: Turtles in Time, 1992
8:
Lifeline
by Hitoshi Sakimoto – Breath of Fire V: Dragon Quarter, 1992
9:
Party in the Clouds
by Jake Kaufman – Adventure Time: Hey Ice King! Why'd You Steal Our Garbage?!!, 2012
Sound of Play: 133
was edited by
Jay Taylor
Remember, it's not just about what we like, so venture over to the thread at the top of this forum and put forward your own suggestions so that we might include them in future shows.
You can subscribe using
Apple Podcasts
or you can just simply
download from here
instead.