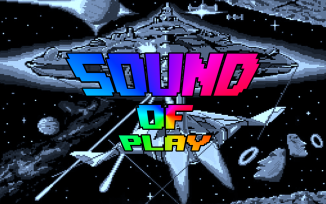 Welcome to our weekly podcast dedicated to videogame music – Sound of Play
What we aim to bring you with Sound of Play is a diverse sample of some of our favourite pieces from the many air-punching, spine-tingling, tear-jerking and grin-inducing videogame soundtracks we've heard over the years. Since we've hit another tenth Sound of Play, Leon and Michiel are taking a special look back at the music of the shoot-em-up (shmup) genre. We're vertically and horizontally scrolling through history.
Track listing for this show is as follows:
1: Challenger (Stage 1) by Miki Higashino – Gradius, 1985
2: Planet Ratis by Miki Higashino/Hidenori Maezawa/Shinya Sakamoto/Satoe Terashima/Atsushi Fujio – Salamander / Life Force, 1986
3: Galactic Dancing (Waltz) / (Tango) by Hiroyuki Kawada – Galaga '88, 1987
4: Round 1 by Shinji Hosoe – Ordyne, 1987
5: Legrous by Tatsuya Uemura/Toshiaki Tomisawa/Masahiro Yuge – Zero Wing, 1991
6: Ready to Go ~ Captain Lancer by Tatsuya Uemura – Hellfire, 1990
7: Front Line Base by Manami Matsumae – Area 88, 1991
8: Paradise Planet by Hiroshi Kimura – R-Type Leo, 1992
9: Meadow's Edge 1 by Chris Huelsbeck – Apidya, 1992
10: Lightning Strikes Again by Toshiharu Yamanishi/Takeshi Yoshida/Naosuke Arai – Thunder Force IV, 1992
11: Skim the Surface of the Sea by Yoshitatsu Sakai – Batsugun, 1993
12: Vision by Tamayo Kawamoto – Layer Section, 1995
13: Fly to the Leaden Sky by Manabu Namiki – Battle Garegga
14: Street by Kenichiro Fukui – Einhänder, 1997
15: Ruin by Hitoshi Sakimoto – Radiant Silvergun, 1998
16: Opening by Hitoshi Sakimoto – Gradius V, 2004
17: Last Boss by Manabu Namiki/Kimihiro Abe/Ryu Umemoto – Mushihimesama Futari, 2006
18: Dividing Road of Fate by Manabu Namiki/Azusa Chiba/Yoshimi Kudo – DoDonPachi Daifukkatsu, 2008
19: Don't Look Back (New Order Mode Version) by Shinji Hosoe – Under Defeat HD, 2012
Sound of Play: 140
was edited by
Ryan Hamann
Remember, it's not just about what we like, so venture over to the thread at the top of this forum and put forward your own suggestions so that we might include them in future shows.
You can subscribe using
Apple Podcasts
or you can just simply
download from here
instead.