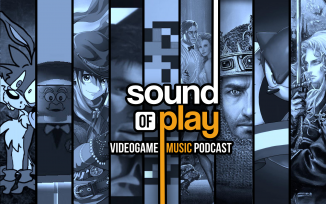 Leon Cox
hosts a community only show for Sound of Play 156 with contributions from
OneCreditBen
,
seansthomas
,
TheGaffer
,
MauricioMM
,
srgtsilent
,
ParasiticTween
,
Spacefarer
,
krakkenunleashed
and
Stalkedbycats
.
What we aim to bring you with Sound of Play is a diverse sample of some of our favourite pieces from the many air-punching, spine-tingling, tear-jerking and grin-inducing videogame soundtracks we've heard over the years.
Track listing for this show is as follows:
Track listing for this show is as follows:
1: Wicked Child by Kinuyo Yamashita – Castlevania, 1986
2: Labyrinth Zone by Yuzo Koshiro – Sonic the Hedgehog, 1991
3: Tune One by Tim Follin/Geoff Follin – Sly Spy: Secret Agent, 1992
4: Summer's Theme by Keiichi Suzuki/Hirokazu Tanaka – Earthbound (Mother 2), 1994
5: Town/Town (Feeling Wind version) by Michiko Naruke – WIld Arms, 1994/2002
6: Mama Papa Brickolini by Lorin Nelson, vocal by Monica Pasqual – LEGO Island, 1997
7: Tubelectric Remix by Alexander Brandon – Jazz Jackrabbit 2, 1998
8: Main Theme by Stephen A. Rippy – Age of Empires II, 1999
9: Crimson Skies Theme/Menu Music by Stan LePard – Crimson Skies, 2000
Sound of Play: 156
was edited by
Jay Taylor
Remember, it's not just about what we like, so venture over to the thread at the top of this forum and put forward your own suggestions so that we might include them in future shows.
You can subscribe using
Apple Podcasts
or you can just simply
download from here
instead.