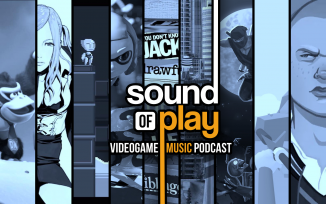 Welcome to our weekly podcast dedicated to videogame music – Sound of Play
Ryan Hamann hosts a community-focused show for Sound of Play 166 with contributions from Nobuo Yagami, Joe81, Richard, MauricioMM, and ReprobateGamer.
Track listing for this show is as follows:
Track listing for this show is as follows:
1: Magic City by Jerry Martin – SimCity 3000, 1999
2: Lovely Mountains by Calum Bowen – Lovely Planet, 2014
3: Grassland Groove by David Wise – Donkey Kong Country: Tropical Freeze, 2014
4: Descended from Heaven by Roger Hicks – Celestial Mechanica, 2011
5: The Virgin Child Makes Her Wish without Feeling Anything by Brad Holmes – No More Heroes, 2007
6: Chip Damage by ABXY – Splatoon 2, 2018
7: Vendetta Jocks by Shawn Lee – Bully, 2006
8: Quillshroom's Horrors by Rainbowdragoneyes – The Messenger, 2018
9: Final Round by Andy Poland – The Jackbox Party Pack 3, 2016
Sound of Play: 166
was edited by
Ryan Hamann
Remember, it's not just about what we like, so venture over to the thread at the top of this forum and put forward your own suggestions so that we might include them in future shows.
You can subscribe using
Apple Podcasts
or you can just simply
download from here
instead.