Sound of Play 276
Posted: November 24th, 2020, 8:47 am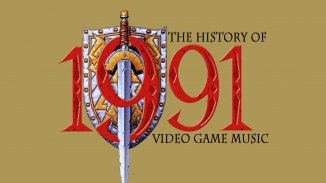 Ryan shares the next year in game history medley, featuring music from 150 games from the year 1991.
Every Wednesday in Sound of Play, we bring you some of our, and your, favourite pieces from the many videogame soundtracks we've enjoyed over the decades.
Music featured in this podcast
:
Music featured in this podcast:
1. Matoya's Cave by Nobuo Uematsu - Final Fantasy, 1987
2. Palace by Yuzo Koshiro, arrangement by Ryo Yonemitsu - Ys I & II, 1989
3. Hollow Stairway B by Burke Trieschmann - Pandemonium!, 1996
4. I'm Waiting For The Night by Hirofumi Taniguchi/Miki Higashino/Taro Kudo/Masanori Adachi - Moon: Remix RPG Adventure, 1997
5. Amazonas - Dynomite Mix by Peter Hajba - Dynomite!, 2002
6. Everything or Nothing by Mýa - James Bond 007: Everything or Nothing, 2004
7. Paper Boats by Darren Korb, vocal by Ashley Barrett - Transistor, 2014
8. Silver Face by DJ Abo/DJ 1-2 - Travis Strikes Again: No More Heroes, 2019
9. Party at the Graveyard by Jake Kaufman - Ray's the Dead, 2020
Sound of Play 276 was edited by Ryan Hamann.
You can keep up with the History of Videogame Music project and download high-quality versions of the mixes (as well as bonus mixes and alternative artwork) at
https://playwritecast.com/the-history-o ... game-music
.