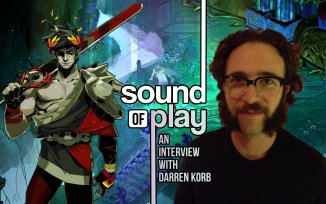 For this Sound of Play Extra, Thomas Quillfeldt spoke to Hades audio director and composer Darren Korb.
Since 2011's Bastion, the small, stable team at Supergiant Games have been putting out distinctive, emotive, aesthetically rich games. While their second and third games Transistor and Pyre garnered plenty of praise, they were somewhat headier than what came next.
Launched in early access in 2018, the action roguelike Hades saw its 1.0 release in 2020 marked by rave reviews. The game's run-based design brought in new fans to the genre thanks to impeccable storytelling, character design and voice acting. Unsurprisingly, Hades has been nominated for, and won a bunch of industry awards; and appeared on, and often topped Game of the Year lists everywhere.
Like a mad musical scientist, Korb has been fusing genres to make all of Supergiant's soundtracks stand out from the crowd. For Hades, his blend of 'Mediterranean prog rock Halloween music' has especially hit home with fans — a truly riff-tastic triumph of a score.
Music featured in this podcast by Darren Korb unless otherwise credited:
1. No Escape – Hades (2020)
2. Through Asphodel – Hades (2020)
3. The Painful Way – Hades (2020)
4. From Olympus – Hades (2020)
5.  Good Riddance (feat. Ashley Barrett) – Songs of Supergiant Games: 10th Anniversary Orchestral Collection (2020)
6. Downriver – Pyre (2017)
7. Out of Tartarus – Hades (2020)
8. Tielle Heitetty by Värttinä – Vihma (1998 album)
9. Scene Six: Home by Dream Theatre – Metropolis Pt. 2: Scenes from a Memory (1999 album)
10. Köppen As Fuck by Chris Christodoulou – Risk of Rain 2 (2020)
11. Dancing Mad by Nobuo Uematsu – Final Fantasy VI (1994)
12. Field of Souls – Hades (2020)
13. Lament of Orpheus – Hades (2020)
14. Dungeon Keeper OST by Russell Shaw (1997)
15. On the Coast – Hades (2020)
This Sound of Play Extra was edited by Thomas Quillfeldt.
You can subscribe using
Apple Podcasts
or you can just simply
download from here
instead.