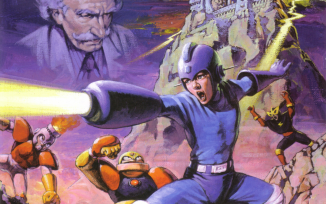 "FIGHT, MEGAMAN! FOR EVERLASTING PEACE!"
Capcom's Rockman – better known in the West as
Mega Man
– blasted his way onto the scene 30 years ago with a tough, tantalising Famicom/NES debut. 'The Blue Bomber' would go on to appear in well over 100 games across countless formats, yet perhaps his most fondly-regarded outing was his second, 1988's
Mega Man 2
. OLD MAN Leon, DUTCH MAN Michiel and COOL MAN Sean each has their own take on the earliest games in the long-running series, as do many contributors from the Cane and Rinse community who weigh in with reviews of three words and more.
Music used in this issue:
1.
Elec Man
by Manami Matsumae - Mega Man
2.
Dr. Wily Stage 1
by Takashi Tateishi - Mega Man 2
Cane and Rinse 296
was edited by
Sean O'Brien
.
You can subscribe using
iTUNES
or use our
RSS FEED
, or you can just simply
DOWNLOAD IT HERE
instead.