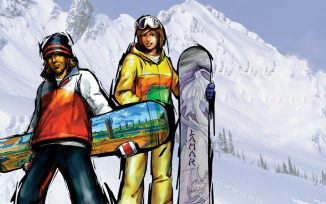 "Ricky Winterborn!"
As the N64 original turns 20, Leon, Darren, Michiel and Tony wrap up warm for another few runs down the mighty twin peaks of
1080 Snowboarding
and
1080 Avalanche
. Remarkably, before the first 1080 there had only been a handful of snowboarding videogames created, yet in the five or so years between 1080 and it's GameCube follow-up, a further 40 such titles were released. Did this fact have an influence on how our panel and correspondents feel about the respective games – and in the wake of them renewing the 1080 Ten Eighty trademark, will Nintendo ever return to the slopes?
Music used in this issue:
1:
Vacant Lives
by Kenta Nagata
2:
Choke
by Cauterize
Cane and Rinse 305
was edited by
Ryan Hamann
.
Each issue of The Cane and Rinse podcast is available a week early through our Patreon for just $1 a month
You can subscribe using
iTUNES
or use our
RSS FEED
, or you can just simply
DOWNLOAD IT HERE
instead.