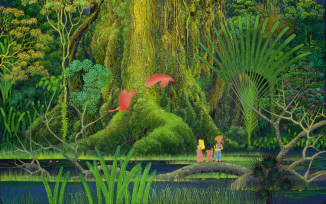 "Time flows like a river... and history repeats…"
On a mid-90s roll, some of the team behind the Final Fantasy games broke off to create a follow-up to Square's 1991 Game Boy title, Seiken Densetsu (aka Final Fantasy Mystic Quest). This sequel was intended to be a more ambitious and action-driven type of RPG for the – then forthcoming – SNES CD add-on. When the relationship between Nintendo and Sony broke down, Seiken Densetsu 2 was repurposed for cartridge and released in the West as
Secret of Mana
. In this podcast, Leon, Brian, Josh and Leah see if they can (re)discover the magic of Randi, Primm and Popoi's colourful and whimsical adventure.
Music used in this issue:
1.
Fear Of The Heavens
by Hiroki Kikuta
2.
Distant Thunder
by Hiroki Kikuta
Cane and Rinse 329
was edited by
Jay Taylor
.
Each issue of The Cane and Rinse podcast is available a week early through our Patreon for just $1 a month
You can subscribe using
iTUNES
or use our
RSS FEED
, or you can just simply
DOWNLOAD IT HERE
instead.