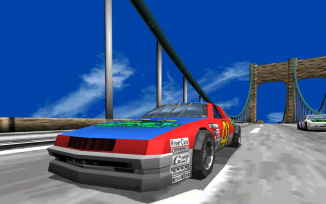 "Blue, blue skies…"
Just why is SEGA's 25 year old coin-op racer still relatively easy to find in (what passes for) arcades in 2018? Leon, Michiel, new contributor Marvin Alexis and the Cane and Rinse community attempt to go beyond Daytona USA's beloved basics – those SEGA blue skies and some memorable music – to understand why people are still playing this vintage arcade title a quarter of a century on from its original release.
Music used in this issue:
1. Awaiting Other Challengers by Takenobu Mitsuyoshi
2. Let's Go Away (Piano version) by Takenobu Mitsuyoshi
Cane and Rinse 331
was edited by
Jay Taylor
.
Each issue of The Cane and Rinse podcast is available unabridged and a week early through our Patreon for just $1 a month
You can subscribe using
iTUNES
or use our
RSS FEED
, or you can just simply
DOWNLOAD IT HERE
instead.