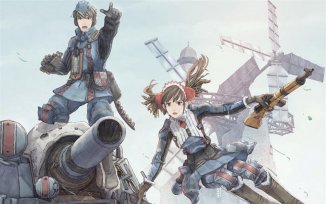 "Squad 7, move out!"
Alright squad, listen up. The objective is to assist Josh, Michiel and Simon Cole in successfully evaluating Sega's 2008 Tactics RPG,
Valkyria Chronicles
. They'll be under heavy fire from difficulty spikes and a flawed ranking system, but we'll be countering with sketch book aesthetics, rousing music and unique third person combat. It's been a 10 year long campaign, but finally victory is within our grasp. Squad 7, move out!
Music used in this issue:
1.
Main Theme
by Hitoshi Sakimoto
2.
Open Fire!
by Casey Ormond (Senjou no Valkyria Piano Pieces)
Cane and Rinse 333
was edited by
Jay Taylor
.
Each issue of The Cane and Rinse podcast is available a week early through our Patreon for just $1 a month
You can subscribe using
iTUNES
or use our
RSS FEED
, or you can just simply
DOWNLOAD IT HERE
instead.