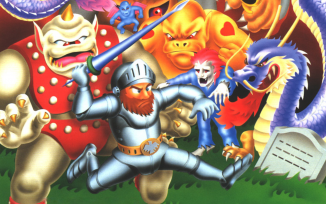 "GO AHEAD DAUNTLESSLY! MAKE RAPID PROGRES!"
Strawberry print boxers all round as Cane and Rinse makes its first journey to the Demon World Village of
Ghosts 'n Goblins
(aka Makaimura). Leon, Michiel and guest Ben Cartlidge consult their internal thesaruses in an attempt to use as many variations on the words hard/difficult/challenging as possible, and we also hear from the community who have sampled the NES, C64 and Spectrum ports of Capcom's 1985 'levels and ladders survival horror'. THIS STORY IS HAPPY END.
Music used in this issue:
1. 1ST&2ND BGM by Ayako Mori
2. RANKING UNDER 2ND by Ayako Mori
Cane and Rinse 335
was edited by
Jay Taylor
.
Each issue of The Cane and Rinse podcast is available a week early through our Patreon for just $1 a month
You can subscribe using
iTUNES
or use our
RSS FEED
, or you can just simply
DOWNLOAD IT HERE
instead.