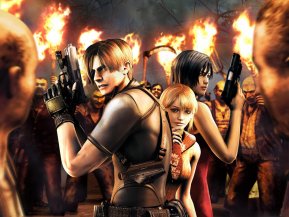 "You don't seriously think a conservative mind can chart a new course for the world, do you?"
For the first time ever – as we continue our run through the mainline Resident Evil games – we give a game a second Cane and Rinse podcast treatment. 13 years on from its release and seven years since we last reviewed, it, Capcom's hugely well reviewed
Resident Evil 4
comes under the microscope once again. Leon, Karl, Leah and Sean are your panel this time around as we pick up some of the elements that we missed in our first show, including the critical adaptive difficulty working behind the scenes. Of course the current Cane and Rinse community also gets its say on this mostly adored – but certainly not by everyone – action horror.
Music used in this issue:
1. Serenity by Misao Senbongi/Shusaku Uchiyama
2. Krauser by Misao Senbongi/Shusaku Uchiyama
Cane and Rinse 336
was edited by
Jay Taylor
.
Each issue of The Cane and Rinse podcast is available a week early through our Patreon for just $1 a month
You can subscribe using
iTUNES
or use our
RSS FEED
, or you can just simply
DOWNLOAD IT HERE
instead.