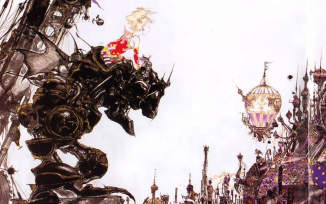 "The world before the fall, Lovely is the light of dawn, Noble is the heart of man…"
Josh, Leah, Jon and Maya Santandrea continue our journey through the Final Fantasy series with the Super Nintendo Entertainment System's final entry. Hironobu Sakaguchi, who has been intimately involved with the series up to this point, takes a reduced role as Producer for this title and instead Yoshinori Kitase and Hiroyuki Ito take on directing duties. With this change in responsibilities came a change of style and approach as compared with series up to this point. This would ultimately shape the trajectory of Final Fantasy as it moved onto new devices. We discuss how we feel about these changes, plus our responses to the largest cast of playable characters in the series entire history and a villain that represents a very different kind of evil than we've seen up this point. This and more, as we cover Square's 1994 release, Final Fantasy VI.
Music used in this issue:
1.
Forever Rachel
by Nobuo Uematsu
2.
Dancing Mad
by Nobuo Uematsu
Cane and Rinse 342
was edited by
Ryan Hamann
.
Each issue of The Cane and Rinse podcast is available a week early through our Patreon for just $1 a month
You can subscribe using
iTUNES
or use our
RSS FEED
, or you can just simply
DOWNLOAD IT HERE
instead.