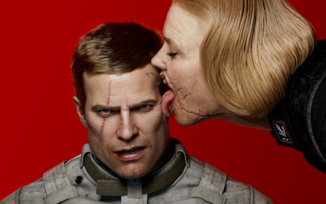 "Come and f**king get me, you…white ass fascist Nazi pigs!"
It's time for Nazi punks to GTFO as Tony, Jon, Karl, and Jacob discuss MachineGames' 2017 title Wolfenstein: The New Colossus. The panel covers the game's weighty gunplay and punishing difficulty, as well as diving headlong into the politics of fascism. Does The New Colossus stand head-and-shoulders above its competition? Or is it, shall we say, headless?
Music used in this issue:
1.
Main Menu
by Mick Gordon
2.
Mein Leben
by Mick Gordon
Cane and Rinse 362
was edited by
Ryan Hamann
Remember, you can get an extended Cane and Rinse podcast a week early by supporting our Patreon for just $1 a month
You can subscribe using
iTUNES
or use our
RSS FEED
, or you can just simply
DOWNLOAD IT HERE
instead.