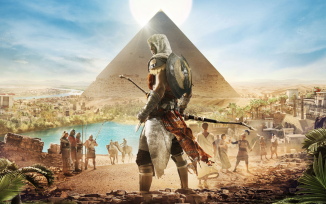 "I serve no one, and I fight for everyone."
In this issue, Karl, Brian, Jay and Rich travel back to Ancient Egypt to the origin of Assassin's Creed, in Ubisoft's biggest revamp of the franchise yet. Open worlds, lush vistas, vicious wildlife, the secrets of the Pyramids and more await our intrepid adventurers. As entrenched fans of the traditional formula, how did the panel feel with the radical changes away from tradition, and was the two year wait after Assassin's Creed Syndicate really worth it? Find out now, as the team and our community give their feedback, on Assassin's Creed Origins.
Music featured in this podcast:
1.
Bayek of Siwa
by Sarah Schachner
2.
The Hyena's Fire
by Sarah Schachner
Cane and Rinse 404
edited by Jay Taylor
Remember, you can get an extended Cane and Rinse podcast FOUR WEEKS EARLIER by supporting our Patreon for just $2 PER MONTH
You can subscribe using
iTUNES
or use our
RSS FEED
, or you can just simply
DOWNLOAD IT HERE
instead.