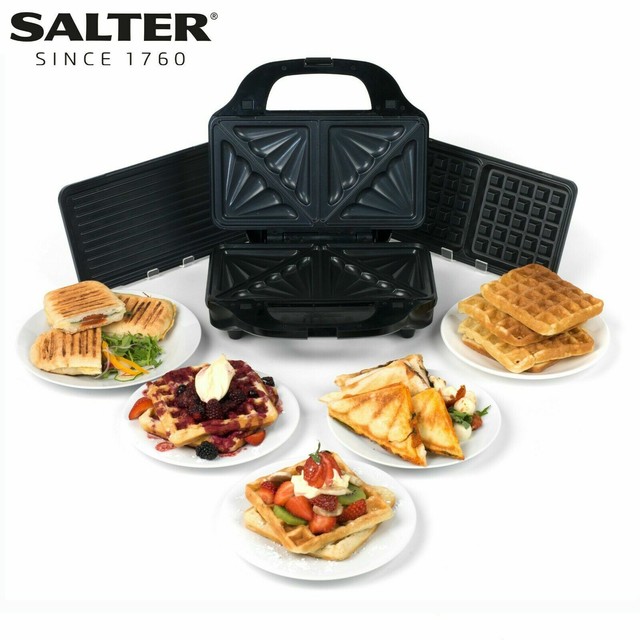 This magnificent machine is the Salter EK2143 Deep Fill 3-in-1 Snack Maker with Waffle, Panini and Toasted Sandwich Plates.
Back when offices were a thing, the 4 people I work with would play The Amazon Game on the first Monday of every month. I'd list the items that had been sold on the One Credit Classics Amazon Affiliate Scheme, then pick one at random.
I'd tell them how much the item cost, and how much money I got from the sale. Then I'd pick them another item and they'd go higher or lower. It was basically The Price is Right but with more swearing.
Anyhow a while back, someone ordered a sandwich toaster and I was amazed at how cheap it was, and went and bought this hot snack grilling titan the same day.
These things always go a similar way, a few days of said food, before the best intentions are relegated to a drawer along with the new machine in question. However, lockdown started about a month after I got this piece of kit so as soon as my wife and I tired of what food we had in, it began. I fished the Salter out from it's space in the cupboard and starting making toasties.
https://pbs.twimg.com/media/EU_UN_JXQAE ... name=large
My early attempts were the stalwart toastie recipes that we've all had, known and loved. A meltable cheese mixed with some kind of alternative filling such as baked beans as pictured above, or spiced chicken.
Variations on these themes also seemed very popular, as a pedestrian sounding toastie could be made infinitely more interesting with some differing flavours.
https://pbs.twimg.com/media/EVE-f5CWsAA ... name=large
The highlight of these initial test pressings was this gem below.
https://pbs.twimg.com/media/EVp-PmdWAAM ... name=small
Tiger bread, Mexican Spiced Cheese and a Tin of Heinz Spaghetti and Sausages. It was incredible.
Then it changed, everything changed when I watched a Youtube video or 29 about toastie making and learned of many sweet recipes that people round the world had made.
I tried Nutella. It was incredible. Nutella and Banana was also fantastic but then my Jurassic Park moment. I managed to perfectly splice the DNA of Nutella, a chopped up Wispa Gold and Lotus Biscoff Spread. I didn't take any pictures of it, because I really didn't want anyone to see what I had become.
I knew I couldn't make another one that good, and convinced myself that I needed to put this behind me. I still think back to that glorious toastie, and just what I could have achieved if I'd carried on that path.
April ended with this audacious little number:
https://pbs.twimg.com/media/EW2iem6XkAI ... name=large
A Findus Crispy Pancake Toastie with Extra Cheese. It was phenomenal but there was a problem.
6 weeks of sweet and savory toasties, coupled with the fact I couldn't go to training, had taken their toll on me and I'd accidentally put on a bit of weight. I usually walk at around 13 stone 12ish - 88kg and I was nearly 93kg now! This was a problem.
In the month of May I massively cut my sugar, crisps and chocolate intake and started walking a lot. Trying to get 10,000 steps a day, riding an exercise bike in the front room, lifting weights and even walking down a canal whilst listening to Nomad by Alan Partridge on Audible. I've lost nearly a stone since the start of May and am determined to keep progressing.
I still have a toastie every couple of days, a few days ago I made a sausage and cheese creation that was fantastic, and even made a nice Fish Finger Panini as well. Balance is the key, also not grilling chocolate but that's obvious.
If you haven't invested in a sandwich toaster I'd recommend one, and if you've already got one then what are you waiting for? Get raiding your various breadbins, fridges and cupboards for some inspiration.
Glory/Insanity/Obesity awaits.
Delete as appropriate.