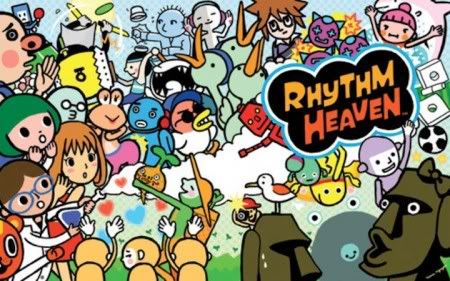 Nintendo's Rhythm Tengoku (Heaven/Paradise) triumvirate
Leon, Tony, Darren Gargette and Josh review Nintendo Software Planning and Development's (so far) trilogy of Rhythm Tengoku/Heaven/Paradise games for Game Boy Advance, DS and Wii. The rhythm action genre was born, to all intents and purposes, in 1996 with NaNaOn Sha's delightful Parappa the Rapper. The so-called BeMani craze evolved with increasingly elaborate mechanics and peripherals, however in 2006 Nintendo took the genre 'back to basics' with a minimalist, pocket friendly take on perfectly timed button pressing in Rhythm Tengoku. The panel also take a look back at the rhythm action genre as a whole and where this series fits in. Plus of course we share your forum posts and Three Word Reviews.
Music used in this show is as follows:
Track 1
:
Frog Hop (Young Love Rock 'n' Roll)
by Tsunku and Masami Yone – Rhythm Tengoku Gold/Rhythm Heaven/Rhythm Paradise soundtrack
Track 2
:
Donk Donk (Perfect Version)
by Tsunku and Masami Yone – Minna no Rhythm Tengoku/Rhythm Heaven Fever/Beat The Beat: Rhythm Paradise soundtrack
Cane & Rinse 45
was edited by
James Carter.
You can subscribe using
iTUNES
or use our
PODCAST RSS FEED
, or you can just simply
DOWNLOAD IT HERE
instead.