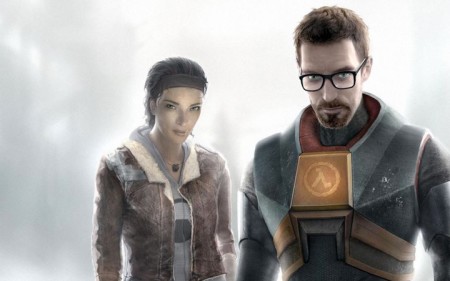 "Rise and shine, Mr. Freeman. Rise and shine."
Some twenty years after defeating the Nihilanth on Xen, Dr. Gordon Freeman is brought out of stasis by the mysterious G-Man to defend humanity (and the Vortigaunt) against the alien forces who have enslaved the Earth in Half-Life 2. Leon, Josh and Karl combine to couple with Valve's multiple Game of the Year 2004 award winner with all the tenacity of a still-beaked Headcrab. Naturally we also enjoy contributions from the forum and Twitter including your Three Word Reviews. This Issue of Cane & Rinse is dedicated to Isabella and Lux Atkins: 2 Whole-Lives.
Music used in this show is as follows:
Track 1:
Requiem for Ravenholm
by Kelly Bailey
Track 2:
Path of Borealise
by Kelly Bailey
Cane & Rinse 56
was edited by
Darren Gargette
.
You can subscribe using
iTUNES
or use our
RSS FEED
, or you can just simply
DOWNLOAD IT HERE
instead.