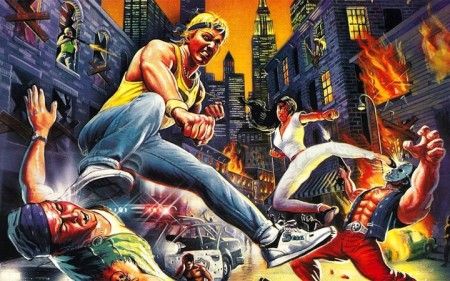 "Grand Upper!"
In the 80's and 90's you could hardly move through town for badly dressed punks being flying kicked by vigilantes with terrible haircuts. Fortunately these events were documented for posterity by such games as Renegade, Double Dragon, Final Fight and SEGA's Streets of Rage series. Leon, Darren Forman, Karl and Dan Clark of The AI Bots podcast talk at some length about the Bare Knuckle trilogy, its predecessors and successors, including the sequels that never were. We also feature a truckload of your forum feedback and Three Word Reviews.
Additional audio used in this show is as follows:
Track 1:
Under Logic
by
Yuzo Koshiro
Track 2:
In the Bar
by
Yuzo Koshiro
Track 3:
Beatnik on the Ship
by
Yuzo Koshiro
Cane & Rinse 70
was edited by
Sean O'Brien
.
You can subscribe using
iTUNES
or use our
RSS FEED
, or you can just simply
DOWNLOAD IT HERE
instead.