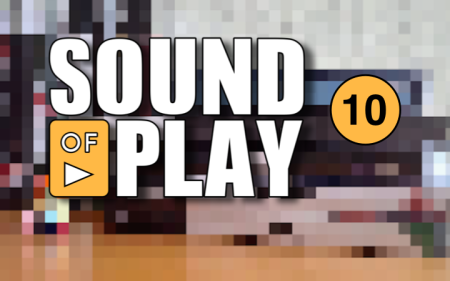 Welcome to our podcast about our favourite videogame music - Sound of Play.
For many of us, it's hard to think of almost any videogame without our minds conjuring up the music that accompanied it. Over the decades they've evolved from simplistic monaural beeps and bloops to full orchestral scores recorded in 7.1 surround, but from their earliest days right up to today, soundtracks have played an integral part of our memories of the games we played, and the times in our lives when we were playing them. What we aim to bring you with Sound of Play is a diverse sample of our favourites pieces from the many air-punching, spine-tingling, tear-jerking and grin-inducing videogame soundtracks we've heard over the years.
This show's presenters were:
Leon Cox
,
Darren Gargette
and
Glen Watts
.
Community contributors were:
J Malmis
and
Fidgety Acolyte
.
Track listing for this show is as follows:
Sound of Play intro mash-up by
Ryan Hamann
.
Track 1:
Bonds of Sea and Fire
by Yasunori Mitsuda (Xenogears, 1998)
Track 2:
Main Theme
by Michiko Naruke (Wild Arms, 1996)
Track 3:
Oh No You Didn't
by Wojahn Brothers (Mercenaries 2: World in Flames, 2008)
Track 4:
Noby Noby Boy (Metro-Cross Theme Song)
by Nobuyuki Ohnogi/Y? Miyake (Noby Noby Boy, 2009)
Track 5:
Focus
by Chipzel (Super Hexagon, 2012)
Track 6:
Every Day the Same Dream
by Jesse Stiles (Every Day the Same Dream, 2009)
Track 7:
Main Menu Theme
by Analogik (Battleblock Theater, 2013)
Track 8:
Hang Glider
by Dan Hess (PilotWings 64, 1996)
Track 9:
Venice Rooftops
by Jesper Kyd (Assassin's Creed II, 2009)
Sound of Play: 10
was edited by
Jay Taylor
You can subscribe using
iTUNES
or you can just simply
DOWNLOAD IT HERE
instead.