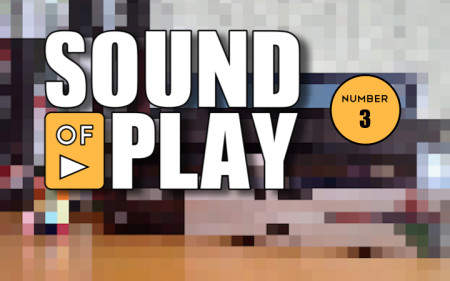 Welcome back to our podcast about our favourite videogame music – Sound of Play.
For many of us, it's hard to think of almost any videogame without our minds conjuring up the music that accompanied it. Over the decades they've evolved from simplistic monaural beeps and bloops to full orchestral scores recorded in 7.1 surround, but from their earliest days right up to today, soundtracks have played an integral part of our memories of the games we played, and the times in our lives when we were playing them. What we aim to bring you with Sound of Play is a diverse sample of our favourites pieces from the many air-punching, spine-tingling, tear-jerking and grin-inducing videogame soundtracks we've heard over the years.
This show's contributors were:
Leon Cox
,
Tony Atkins
and
Darren Gargette
Community contributors were:
Katieee120
,
Follow My Ruin
and
Scrustle
Track listing for this show is as follows:
Sound of Play intro mash-up by
Ryan Hamann
.
Track 1:
The Last of Us Main Theme
by Gustavo Santaolalla (The Last of Us, 2013)
Track 2:
Still Alive
by Lisa Miskovsky (Mirror's Edge, 2008)
Track 3:
Frog Hop 2 (Young Love Rock n Roll) – Japanese version
by Mitsuo Terada (Tsunku) (Rhythm Tengoku/Rhythm Heaven, 2008)
Track 4:
Master Mode Stage
by Jun Chikuma (Saturn Bomberman, 1996)
Track 5:
Kraid's Theme
by Hirokazu "Hip" Tanaka (Metroid, 1986)
Track 6:
I Am Alive Main Theme
by Jeff Broadbent (I Am Alive, 2012)
Track 7:
Heaven's Devils
by Cris Velasco/Derek Duke/Glenn Stafford/Neal Acree/Russell Brower/Sascha Dikiciyan (StarCraft II: Wings of Liberty, 2010)
Track 8:
Windmill Hills
by David Wise, Kenji Yamamoto (Donkey Kong Country: Tropical Freeze, 2014)
Track 9:
The Throne Room
by Oscar Araujo (Castlevania: Lords of Shadow 2, 2014)
Sound of Play: 3
was edited by
Jay Taylor
You can subscribe using
iTUNES
or you can just simply
DOWNLOAD IT HERE
instead.