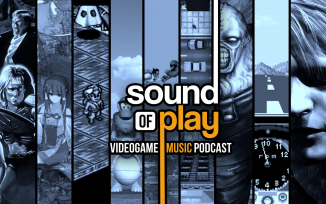 Leon Cox
hosts a community only show for
Sound of Play 165
with contributions from Marchantia, Blue Weasel Breath, TheGaffer, CODEMONKEY, David Wagner, Nick turner 13, srgtsilent, DomsBeard and Tbone 254
What we aim to bring you with Sound of Play is a diverse sample of some of our favourite pieces from the many air-punching, spine-tingling, tear-jerking and grin-inducing videogame soundtracks we've heard over the years.
Track listing for this show is as follows:
1: Main Theme by Kris Hatlelid – Grand Prix Circuit, 1988
2: Beginning by Hidenori Maezawa/Jun Funahashi/Yukie Morimoto/Yoshinori Sasaki
Akumajou Densetsu – Castlevania III: Dracula's Curse, 1989
3: Tune Three by Tim Follin/Geoff Follin – Sly Spy: Secret Agent, 1992
4: Tori (Short Version) by Tim Follin/Geoff Follin – Equinox (Solstice II), 1993
5: Haunted Woods by David Wise – Diddy Kong Racing, 1997
6: Joyride by 'Da Shootaz' (Colin Anderson/Craig Conner/Grant Middleton) – Grand Theft Auto, 1997
7: BAD Apple!! by ZUN – Lotus Land Story, 1998
8: Free From Fear by Masami Ueda/Saori Maeda – Resident Evil 3: Nemesis, 1999
9: Forest by Akira Yamaoka – Silent Hill 2, 2001
Sound of Play: 165
was edited by
Jay Taylor
Remember, it's not just about what we like, so venture over to the thread at the top of this forum and put forward your own suggestions so that we might include them in future shows.
You can subscribe using
Apple Podcasts
or you can just simply
download from here
instead.