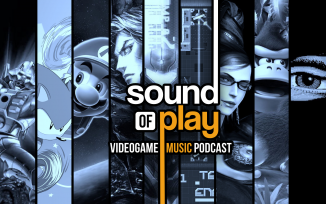 Joining host
Leon Cox
for Sound of Play 167 is
Paul Davies
with a couple of community contributions from Ksubzero1000 and Seansthomas.
What we aim to bring you with Sound of Play is a diverse sample of some of our favourite pieces from the many air-punching, spine-tingling, tear-jerking and grin-inducing videogame soundtracks we've heard over the years.
Track listing for this show is as follows:
: Thrashard in the Cave by Shin-chan/Keizo Nakamura/Hiroshi Kobayashi – Akumajo Dracula, 1993
2: The Last Ninja Theme by Ben Daglish – The Last Ninja, 1987
3: Concerto for Laser and Enemies by Chris Huelsbeck – Turrican II: The Final Fight, 1991
4: Torvus Bog Hydrodynamo Station by Kenji Yamamoto – Metroid Prime 2: Echoes, 2004
5: Aquatic Ambiance by David Wise/Eveline Fischer/Robin Beanland – Donkey Kong Country, 1994
6: Lava Reef Zone Act 1 by Tee Lopes (original by Sachio Ogawa/Tatsuyuki Maeda/Jun Senoue/Howard Drossin) – Sonic Mania, 2017
7: Gusty Garden Galaxy by Mahito Yokota – Super Mario Galaxy, 2007
8: Main Theme by Ben Daglish – Deflektor, 1987
9: After Burner (Infinite Climax Mix) by Hiroshi Kawaguchi – Bayonetta, 2009
Sound of Play: 167
was edited by
Jay Taylor
Remember, it's not just about what we like, so venture over to the thread at the top of this forum and put forward your own suggestions so that we might include them in future shows.
You can subscribe using
Apple Podcasts
or you can just simply
download from here
instead.