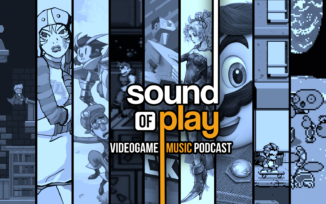 Welcome to our weekly podcast dedicated to videogame music – Sound of Play
In this Sound of Play Ryan Hamann (@InsrtCoins) is joined by Windmills at Dawn (@CraigedyCriag / @WindmillsAtDawn).
What we aim to bring you with Sound of Play is a diverse sample of some of our favourite pieces from the many air-punching, spine-tingling, tear-jerking and grin-inducing videogame soundtracks we've heard over the years.
Track listing for this show is as follows:
1: Superman by Boy Without Batteries – Kickblips, 2018
2: Humming the Bassline by Hideki Naganuma – Jet Set Radio, 2000
3: Main Theme by David Wise – Time Lord, 1990
4: Flitspire Level Theme by Windmills at Dawn – Flitspire, 2018
5: Mystery Train (Piano Collections Version) by Nobuo Uematsu/Shirou Sagisu – Final Fantasy VI, 1994
6: Robot City by Hideaki Shimizu – Joy Mech Fight, 1993
7: Bowser's Castle – Main Courtyard by Naoto Kubo/Shiho Fujii/Koji Kondo – Super Mario Odyssey, 2017
8: Strato Theme by Jonathan Geer – Owlboy, 2016
9: When Worlds Collide by 3xBlast & DonutShoes – Kickblips, 2018
Sound of Play: 184
was edited by
Ryan Hamann
Remember, it's not just about what we like, so venture over to the thread at the top of this forum and put forward your own suggestions so that we might include them in future shows.
You can subscribe using
Apple Podcasts
or you can just simply
download from here
instead.