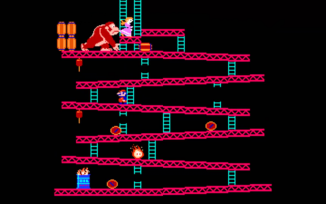 "HOW HIGH CAN YOU GET?"
In the first of a series of podcasts about Nintendo's iconic simian, Leon, Darren and Michiel find out who among them is the king of Donkey Kong. As well as the original 1981 coin-op, its many varied ROMsets, clones, conversions and ports, the crew also play through the ape's 1994 Game Boy outing – actually a 'secret' 100 level Mario puzzle platformer. As usual we also hear from Cane and Rinse community correspondents and take a very brief look at DK Jr. and other relevant games that came in between 1981 and 1994.
Music used in this issue:
1. Donkey Kong arcade music by Yukio Kaneoka
2. Do the Donkey Kong by Jerry Buckner & Gary Garcia
Cane and Rinse 375
was edited by
Jay Taylor
Remember, you can get an extended Cane and Rinse podcast a week early by supporting our Patreon for just $1 a month
You can subscribe using
iTUNES
or use our
RSS FEED
, or you can just simply
DOWNLOAD IT HERE
instead.