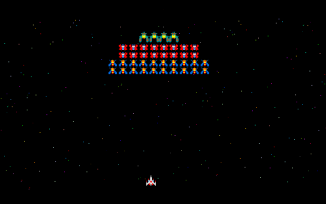 "MISSION: DESTROY ALIENS"
October 1979 saw Namco's brash, dynamic and eye-scorchingly colourful Space Invaders spiritual successor landed with a loud bang in arcades. Leon, Michiel and guest Dan Clark recall the thrill of swooping alien robo-moths and – tracing the Galaxian series along – the power-fantasy fulfilment of double ship and even triple ship play in Galaga and Galaga '88. Along with contributions from the community we also look at many more sequels and spin-offs, popular culture cameos and incoming cartoons from the world of Namco's enduring space blaster lineage.
Music used in this issue:
1. Galaxian sound FX – Namco
2. Name Entry music – Galaga '88
Cane and Rinse 388
was edited by
Jay Taylor
Remember, you can get an extended Cane and Rinse podcast a week early by supporting our Patreon for just $1 a month
You can subscribe using
iTUNES
or use our
RSS FEED
, or you can just simply
DOWNLOAD IT HERE
instead.