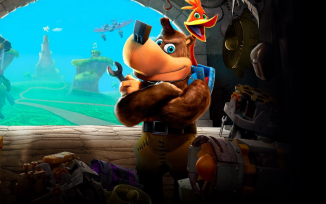 "Eight long years to bounce back here, I'll win this time and make you cheer!"
Eekum Bokum! It's another Banjo-Kazooie adventure but this time almost everything is different. The famous Bear and Bird duo are back in the groove but also firmly in the seats of many bespoke (or pre-built) vehicles. In a rather controversial move, the fourth outing for Rare's charismatic creatures isn't a traditional 3D platformer and requires the player to think outside the box by playing with physics. What do Darren, Ryan and guest Joey Bagi think of the first Banjo-Kazooie game under Microsoft's wing? Have a listen and find out. Guh-huh!
Music used in this issue:
1.
Showdown Town
by Grant Kirkhope
2.
Nutty Acres
by Grant Kirkhope
Cane and Rinse 394
 was edited by Ryan Hamann
Remember, you can get an extended Cane and Rinse podcast a week early by supporting our Patreon for just $1 a month
You can subscribe using
iTUNES
or use our
RSS FEED
, or you can just simply
DOWNLOAD IT HERE
instead.