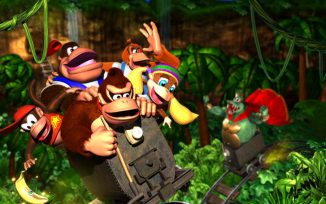 "Hey, Been a long time, Donkey-Dude!"
After the rousing success of Diddy Kong Racing and Banjo-Kazooie, it was time for Rare to step up to the plate and turn (almost) the rest of the Kong family into three-dimensional beings. Explore DK Isles for the first time in glorious 3D and admire the charisma which pours out of almost every facet of this behemoth adventure. Jump into the tag barrel and choose between Darren, Brian, Ryan and returning guest Joey Bagi to see just what they think of the N64 platformer so big, Nintendo had to include an expansion pak just to fit it all in! It's time to party like it's 1999 and this party starts off with a simian-themed rap.
Music used in this issue:
1.
Logo Theme
by Grant Kirkhope
2.
DK Rap
by Grant Kirkhope, with George Andreas and Chris Sutherland
Cane and Rinse 395
 was edited by Jay Taylor
Remember, you can get an extended Cane and Rinse podcast a week early by supporting our Patreon for just $1 a month
You can subscribe using
iTUNES
or use our
RSS FEED
, or you can just simply
DOWNLOAD IT HERE
instead.