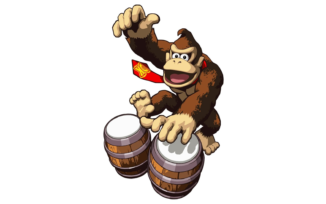 "Jungle Boogie!"
Nintendo wanted in on the 'BeMani' action in the early-mid 2000s, and so roped in Taiko no Tatsujin producers Namco to reskin their drumming rhythm games with a Donkey Kong flavour. Three Donkey Konga games followed in quick succession, each featuring minimal changes to anything but the lineup of songs – an eclectic mix of pop covers, classical, latin, TV themes and game tunes for players to batter out beats to. Leon, Brian, Darren and Leah all have fond memories of bashing their barrels, as do a supergroup of keen percussionists from the Cane and Rinse community.
Music featured in this podcast:
1.
Donkey Konga Theme
by Junko Ozawa
2.
Banana Tengoku
by ?
Cane and Rinse 405
edited by Jay Taylor
Remember, you can get an extended Cane and Rinse podcast FOUR WEEKS EARLIER by supporting our Patreon for just $2 PER MONTH
You can subscribe using
iTUNES
or use our
RSS FEED
, or you can just simply
DOWNLOAD IT HERE
instead.