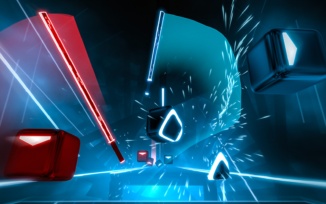 "We're playin'... We're playin'... We're playin'..."
Whether it's Guitar Hero by way of Fruit Ninja or a chance to live out the Star Wars Kid fantasy, there's no denying the wild success of Beat Saber over the past two years. James, Chris, Jacob and Ryan have collectively chopped their way through millions of blocks (mostly Jacob, to be fair), and they are ready for the Beat to drop. Are you?
Music featured in this podcast:
1
Beat Saber
by Jaroslav Beck
2.
Unlimited Power
by Jaroslav Beck and Frank Bentley
Cane and Rinse 418
edited by Jay Taylor
Remember, you can get an extended Cane and Rinse podcast FOUR WEEKS EARLIER by supporting our Patreon for just $2 PER MONTH
You can subscribe using
iTUNES
or use our
RSS FEED
, or you can just simply
DOWNLOAD IT HERE
instead.