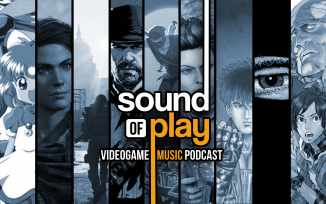 For this week's Sound of Play podcast, Michiel Kroder takes over the hosting duties aided and abetted by Jay Taylor
What we aim to bring you with Sound of Play is a diverse sample of some of our favourite pieces from the many air-punching, spine-tingling, tear-jerking and grin-inducing videogame soundtracks we've heard over the years.
Music used in this podcast:
Music used in this podcast:
1. Undercroft by Ola Strandh - The Division 2, 2019
2. The Wilderniss by Ben Daglish & Anthony Lees - The Last Ninja, 1987
3. Hills of Destiny (Past) by Rainbowdragoneyes - The Messenger, 2018
4. Odyssey (Greek version) by The Flight, Mike Georgiades, Fanny Perrier-Rochas - Assassin's Creed Odyssey, 2018
5. Main Menu Theme by Justin E. Bell - The Outer Worlds, 2019
6. Love So 'Radio Active Mix' by Keiichiro Segawa, Yuka Watanabe, Takeshi Muramatsu, Hideki Yamamoto, Takao Oshima, Hiroaki Kujirai, Makio Chiba, Hiroaki Shimizu, Shinobu Sekimoto - Twinkle Star Sprites, 1996
7. Morphogenetic Sorrow by Shinji Hosoe - 9 Hours, 9 Persons, 9 Doors, 2009
8. Mission 4 (Italy) by Akira Inoue, Takaro Nozaki, Michiya Hirasawa, Yoshihiro Kameoka - Double Dragon III: The Sacred Stones, 1991
9. That's the way it is by Woody Jackson - Red Dead Redemption 2, 2018
Sound of Play 231
was edited by Jay Taylor
You can subscribe using Apple Podcasts or you can just simply download from here instead.